Called Infoshield, this algorithm could become the essential technological tool for police forces in Canada engaged in the fight against online sexual exploitation.
It is one of the first in the world. There are very few people who have mobilized artificial intelligence to intervene in the chain of human trafficking, launches Benjamin Prud'homme, executive director at the Institute of artificial intelligence of Quebec (Mila).
Infoshield would be more efficient than any other technology currently used by the police, being "able to analyze millions of pieces of information" online. It's almost 1,600 times faster than current tools that don't use artificial intelligence.
Like the image of an aviation radar, the algorithm would be able to scan the information circulating in real time in the world of the web and social networks, 24 hours a day. Then it would be able to " analyze it by linking data together.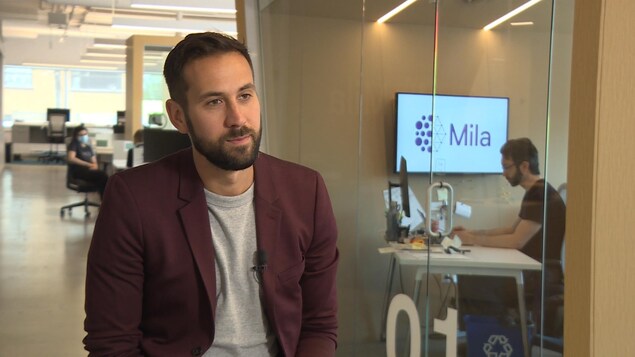 Infoshield is quite complex. Its operation allows us to quickly target content, in a mass of information, which is linked to human traffic, says the executive director at Mila. This allows us, among other things, to detect people who perpetuate this type of content or to identify potential victims.
This Montreal breakthrough in artificial intelligence is a world first in the fight against human trafficking, we are told.
It would be more than welcome since, without much surprise, the black market for human trafficking has moved to the Internet and social networks.
Online advertising, sometimes subtle, is considered the primary way of trafficking in persons.
The majority of victims are offered by ads posted by their exploiter. The latter can usually control four to six victims at a time, says the head of the research project, Reihaneh Rabbany.
According to the International Labor Organization, approximately 4.8 million people are trafficked annually for the purpose of sexual exploitation. This global industry, controlled by criminal organizations, is estimated to generate $ 99 billion.
Already conclusive results
Infoshield's first tests are promising, according to the group of researchers associated with Mila.
Thus, the Infoshield algorithm was able to spot ads featuring people traffic with 85% accuracy. These results would be better than those of any other cutting-edge artificial intelligence algorithms.
The conclusions were quickly encouraging. I wanted to focus my efforts on how the algorithm works and how we could improve it even more, explains Reihaneh Rabbany.
What we are doing here is developing a new algorithm that is even more complex than any that are in use at the moment. We are developing new methods to do data analysis.
According to Statistics Canada, more than 1,700 human trafficking cases were investigated by Canadian police services between 2009 and 2016. Almost all victims of sexual exploitation, including minors, were women (97%).
An essential tool for police officers
The designers of'Infoshield do not believe that it will replace the work of the police, but rather see it as a major asset in their fight against sexual exploitation.
Without pouring into the techno-solutionism – because I don't want to give the impression that this tool alone can tackle human trafficking – we think it would be an extraordinarily useful tool for the police, explains Benjamin Prud'homme, executive director.
In addition to artificial intelligence researchers, several experts in the field of human trafficking are also called upon to contribute to the work aimed at developing Infoshield.
Sexual exploitation is a market crime. There are people who offer something and there are potential customers who find themselves online. And having a tool like this will increase the success of a police investigation. It is an added value, continues Francis Fortin, professor of criminology at the University of Montreal.
Artificial intelligence is not going to go and arrest people tomorrow morning. There must be someone who has to see what the computer is telling them. It is a technology that maximizes the use of computers.
The group of researchers based in Montreal therefore hopes to obtain funding to expand its team of developers in the coming months. He then wanted to find police forces in Canada as partners so that Infoshield officially becomes a tool to fight human trafficking and sexual exploitation.